Removable prefabricated metallic radiant panel, dim. 60×60 cm, with two snap-in 90° fittings.
UT

quad metal is available on a wide range of metal finishes, the right choice for each type of need. The panels are simply laid on the support frame, ensuring an easy and quick installation and accessibility for controls and inspections.
These panels can be installed on visible or hidden structures and are suitable for all contests, thanks to their high quality and different decorative finishing.
thermal insulation support in pre-moulded expanded polystyrene, class 200 density, 35 mm thick, shaped to fit in the aluminium heat exchangers;

pre-moulded aluminium heat exchangers 400 μm thickness, shaped to fit in the hydraulic circuit;

hydraulic circuit with triple layer pipe in PE-Xc ∅ 8×1 mm with intermediate oxygen barrier and snap in fittings;

unlimited metal finishing available in many colors, shapes and textures able to satisfy the most various design requirements;

available with visible edges or edges hidden in the structure.
solutions
UT

quad metal radiant panel was created to meet the needs of inspection of the false ceilings of the rooms combining the maximum thermal performance with the metal finishes. Designed and built using the components and the high thermal performances of

UT

standard panel, it is the ideal solution for environments that need to be characterized by high aesthetic and thermal comfort:
conference rooms
commercials
restaurants
radiant net area (EN 14240)
radiant gross area (panel total surface)
board thermal conductivity
variable depending on the chosen finish
variable depending on the chosen finish
dimensions
and weight
note 1
dimensions (W x H x D)


600 x 600 x (± 46) mm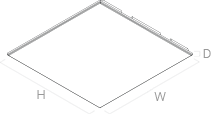 available additional finishes and complementary panels
please contact us for a full list of available finishes and complementary panels.
All the indicated dimensions can vary depending on the chosen finish and with a tolerance of ± 1 mm.