UTeasy is a patented prefabricated radiant panel suitable for wall and ceiling installations.
UT

easy is a patented prefabricated radiant panel, without aluminium heat exchangers and with the 8×1 pipes inserted into the plasterboard after the routed milling process.
Its main characteristic is that it contains inside the supply backbone and the system of connection between the panels.
The panel size is 240×120 cm can be modulated so as to obtain new sub-modules that increase the adaptability of the radiating surface.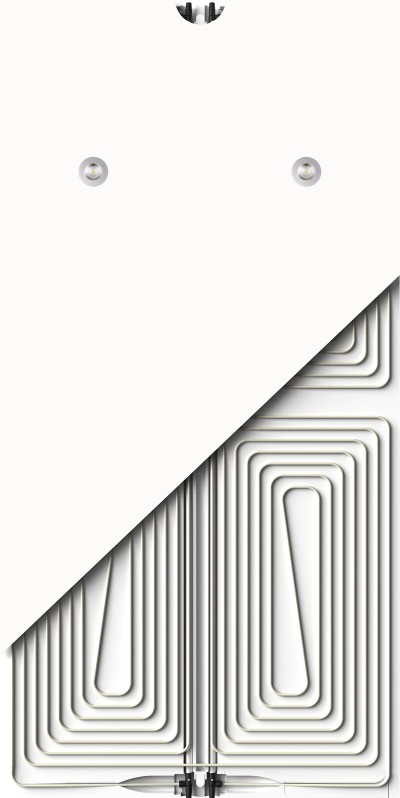 thermal insulation support in pre-moulded expanded polystyrene, class 200 density, 40 mm thick;

hydraulic circuit with triple layer pipe in PE-Xc ∅ 8×1 mm, with intermediate oxygen barrier, specially shaped to be connected to the backbone ends in the panel and to be cut in half to get base sub-modules of 60 x 120 cm;

backbones in multy-layer PeX-Al-PeX ∅ 20×2 mm pipe incorporated into the panel along the major centre axis, with triple fittings at the backbone ends for the connection both to the 8 mm pipe and to another panel through push-button joint or to the supply line.
The backbones are not anchored to the panel, to facilitate the joint insertion and also to ensure the thermal expansion and tolerance for small transversally misalignments between the panels;

longitudinal electrical duct (on demand) cut from the polystyrene board (sect. 28 x 20 mm) placed between the back bones for the passage of the cables;

gypsum finishing plasterboards, the surface is avana papered to facilitate the finishing operations and has laser-traced drawing of the hydraulic circuits and marks for the anchorage screws at 40 cm and 60 cm. The board is glued to the whole set of insulated support pipe-heat exchangers with water-based vinyl glue. The panel is engraved on the short sides centre with two ∅ 150 mm caps to allow the connection of the joints and the testing. The closing caps are included.
modularity
The 240×120 cm size panel can be modulated: it can be cut along the center lines of the main module to get new sub-modules and increase the adaptability of the radiating surface.
integrated LED lighting
During the construction phase, the laser marking, which shows the hydraulic circuit, helps the easy placement of LED lights (up to 5 cm diameter). This innovative technology, fully engineered by UnderTree ensures a lighting solution with increased energy saving and the most advanced lighting comfort.
Moreover, between the two panel backbones there is a longitudinal site where the electrical cables can be placed.
radiant net area (EN 14240)
radiant gross area (panel total surface)
board thermal conductivity
dimensions
and weight
note 1
dimensions (W x H x D)


2400 x 1200 x 55 mm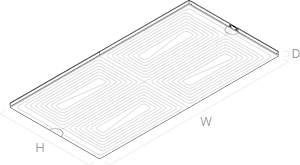 UT

easy neutral: blank panel for not radiant surfaces to be combined with

UT

easy radiant panels (dimensions 2400 x 1200 x 55 mm)
All the indicated dimensions have a tolerance of ± 1 mm.